How Did Gal Gadot Go From Thin to Fierce? See How Wonder Woman Got Her Muscle…
It's the superhero movie that we can't wait to hit the screens, (nope, you won't have to drag us to this one!).
The new wonder woman Gal Gadot is everything the hollywood screens need; she's fierce, strong and conquers everything the role throws at her, (quite literally – we hear she spent a full 9 hours on set running on a treadmill during a CGI battle scene…).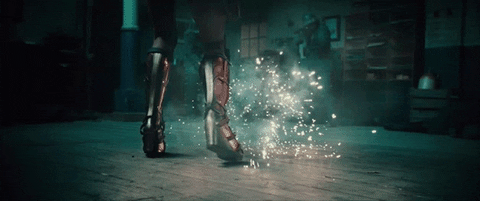 Although her body has been met with some side eye from critics, we think it's crazy impressive that she managed to pack on 17 pounds of muscle in 9 months!
Gal Gadot joins Ben Affleck and Henry Cavill as Wonder Woman in Batman v. Superman: Dawn of Justice, and the actress had a pretty big suit to fill… literally.
Known for her extremely slender physique, she had to bulk up for the role fast. She enlisted trainer Mark Twight to transform Gadot's catwalk model body into the brand new wonder woman and one that could physically hold her own onscreen with the guys. That meant packing on some serious muscle.
Twight recalled to Vanity Fair about meeting the Israeli-born actress for the first time. He wasn't completely sure he would could finish in time, yikes!
Her wrist — went all the way up. Her elbow was the thickest part of her arm…
Gadot, 30, was equally anxious, telling Twight:
I don't want to be big and bulky… I don't want to look like a bodybuilder.
Twight rapidly put her on an intense eating and training regimen, over 9 months.
The Plan
---
Three days a week in the gym and two days of 'homework' – or, active cardio
Poor nutrition and inadequate sleep reduce the effectiveness of training by 20 to 30 percent
Blend basic pull-ups, squats, and ball throws with cardio intervals using the stationary bike and rowing machine—two minutes full-force, then two minutes of active rest.
Weight-lifting challenges were also incorporated, Twight used a plan of staple lifts including; deadlifts, squats, shoulder press, bent over rows and chest press.
The Diet
---
Balance each meal with equal amounts of protein and greens, and to be wary of seemingly healthy choices like green juice, which can be highly caloric thanks to the large amounts of natural sugars in some fruits and veggies.
Drink 1 gallon of water each day; and make balanced choices which nourish the body.
---
Gadot knew she had a gruelling road ahead after she was cast. Last year, she gave an interview addressing the initial criticism over her body.
They said my head was too big and my body was like a broomstick
One year later, Gadot is thrilled with the results of her training regime:
I feel so much better now. When you feel strong, it changes everything — your posture, the way you walk.

I look at photos from five years ago and think, 'Whoa, I was too skinny. It's not cool.
And as for the boob thing? She's laughing all the way to the bank:
I realised we can't please everyone.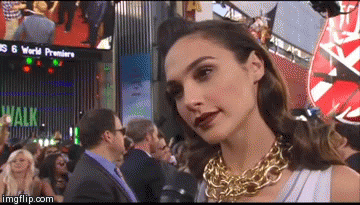 We can't wait to see Gal Gadot as Wonder Woman! The spinoff hits screens on June 23, 2017. See her kicking ass and taking names as Wonder Woman in Superman vs Batman, out now.